Posted on | April 17, 2011 | No Comments
Posted on | March 12, 2011 | 1 Comment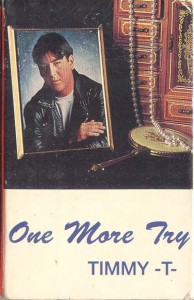 I was twelve years old. Please don't judge me. A twelve year-old cannot be trusted to make good choices in music, or in anything. And I may have been tweaked on acid most of that time. Hard to say. My memory of that period is hazy. But I purchased a single, on cassette tape, of Timmy T's One More Try. Believe it or not this piece of crap sold more than a million copies and topped the Billboard charts in 1991.
Even worse than the awful sound of the "music" is the video. Don't watch it. Just don't. Okay, watch it, but ask your children and pets to leave the room, and watch it through your fingers like a horror movie.
Even worse than that is his other hit single, Time After Time. The video has been known to cause sterility. In every person who has ever loved you.
I am really, really sorry. I am sorry that I paid for this. And I am sorry it has taken me so long to ask your forgiveness. I wish I could return to 1991 and kill myself but I can't because my time machine runs on baby orphans, and the voters of Massachusetts have deemed that "unethical". Prudes. They don't understand how bad this music is.
Posted on | March 5, 2011 | No Comments
I posted a free demo (while supplies last) at BandCamp. This was released tonight at a show I did at Blue State Coffee in Boston.
The tracklist:
Mangosteen 4
Last Man In Vegas
The Hipster Serengeti
Hook And Line
Eyes And Hands (Orphaned Original)
Hey Vibration!
The Salmon
Tight (Dangerously Demo)
Posted on | July 5, 2010 | No Comments
Hook and Line, free at ReverbNation.com.
This may be the last solo song for a while as my drummer and I have started working on a full-length Drugs & Gum collection, hopefully available in the fall.
Posted on | June 1, 2010 | No Comments
I ran into Liz Isenberg, resident of Providence, RI, last night. Not only is she a splendid songstress, but also the creator of this unbelievably fantastic music video where she air-guitars her own song. I don't usually like things. But I like this.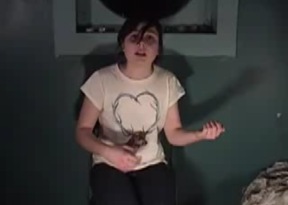 Posted on | May 27, 2010 | No Comments
If you're in the Boston/Cambridge area this Friday, come see Ariel and I play at Cafe Luna in Central Square. Show starts at 9.
Posted on | April 21, 2010 | No Comments
I have uploaded all the lyrics to my songs in the middle sidebar.
Blistered Feet
Blow
Bottle Up
Coke, Beer, and Heroin
Colorful Kid
Dinosaurs
Eyes and Hands
Golden Boy
Greater Than Gravity
Hey Vibration!
Lost in Legs
Mangosteen
Manhattan
Our Bodies Knew
Spiders
The Salmon
Three For a Buck
Tight
Posted on | April 19, 2010 | No Comments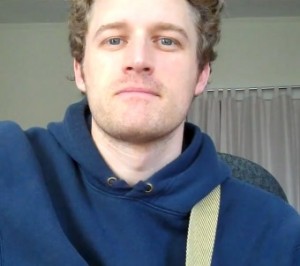 Dear Mr. Gibbard,
My cover is better than yours. Perhaps you should consider a different line of work.
Sincerely,
Drugs and Gum
PS. I recorded this right after running in the Boston Marathon, which is why I'm dressed down. I didn't start of finish it, but I did run in it. 😉
Posted on | April 8, 2010 | 1 Comment
Really??? Am I that terrible? The whole festival is ONE BAR.
Posted on | April 6, 2010 | No Comments
We need to create a new term.
For years, young men were the ones who picked up a guitar, learned three or four chords, and played bad, whiny music, preferably at parties or on the campus lawn, and preferably to get attention from females. The accepted term for these gentlemen is "douchebags with guitars". But the more I look around at the local music scene (at least here in Boston) the more it feels like these amateur amateurs are women, not men. And they don't always play guitars. Sometimes they play the piano. But they always sound the same, and we're all supposed to pretend we care and think they're all talented and pretty and shit, when in fact, they suck.
Women cannot be douchebags, however. That's a term just for certain types of insecure men. To my knowledge, there is no equivalent term for young women brandishing their instrument (badly) and crooning (barely tolerably) in hopes of capturing attention.
We can, of course, feminize "douchebag" into "douchebaguette", but it's a slightly cumbersome word, and too long, and simply would never catch on as a real insult. "Douchebaguettes with pianos" just won't cut it.
So my proposal is to call these young ladies "snatchbags with guitars" or alternatively, "snatchbags with keyboards".
I do realize that this goes against my feminist ethic to deliberately slander women specifically. But there is also a musical ethic in there somewhere. And so many of these snatchbags, just like their douchebag brothers, need to put the guitar DOWN and find something else to do.
keep looking »